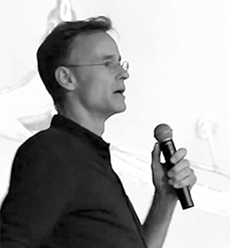 Instructor: Mike Youngblood, Youngblood Group
REGISTRATION IS CLOSED
Tuesday, 9 October, 13:00–16:00, East-West Center
25 participants, fee: $100
Overview
This tutorial offers a solid foundation in the art of observation as a field research method for human-centered design and innovation. A reprise of Mike Youngblood's sold-out tutorial at EPIC2017 in Montreal, this year will include new discussion topics and practical exercises. It will be valuable for those who are new to this method as well as more seasoned observers seeking an effective toolkit they can use to train others. The tutorial will cover:
four core techniques for conducting observational research in a wide range of settings
basic observational data collection
effective note taking
selecting the right tools and methods
ethical considerations related to observing others
Discussion will draw on real-life examples from diverse settings, including Mike's own research in homes, bars, restaurants, car dealerships, urban neighborhoods, medical environments, and more. In addition to instruction and group discussion, tutorial participants will have the chance to practice using specific techniques during video footage of human behavior and short field excursions into nearby public spaces on the University of Hawaii campus. Participants will take away a toolkit of observational techniques that can be used to gain quick insight into a human experience or add rich observational depth to interviews and other qualitative methods.
Instructor
Mike Youngblood, PhD, is a cultural anthropologist working at the nexus of social science and human-centered design. He has worked with for-profit and not-for-profit clients around the world in a wide range of industries, including financial services, transportation, telecommunications, food and nutrition, education, healthcare, and social services. Mike is a frequent speaker in the fields of anthropology and design and has taught at the School for International Training, Maryland Institute College of Art, UC Berkeley Haas School of Business, and Hasso Plattner Institute of Design at Stanford University. His recent book is Cultivating Community: Interest, Identity, and Ambiguity in an Indian Social Mobilization and he is editor of Sustainability and Ethnography in Business Series on the EPIC blog Perspectives.

How to Register
Tutorial registration is open to all EPIC2018 attendees. You can purchase tutorial tickets during conference registration, or login to your existing registration and add a tutorial. When tutorials fill you may join the waitlist, but we recommend registering for your second-choice tutorial, since we see very few cancellations.